Mermaids are so fascinating. They have always
been pictured as beautiful creatures ~ with their slender
bodies, long flowing hair and extraordinary fish tails.
~ Today I am featuring three awesome Artists ~
Krishna ~ Created by Sharron Alexander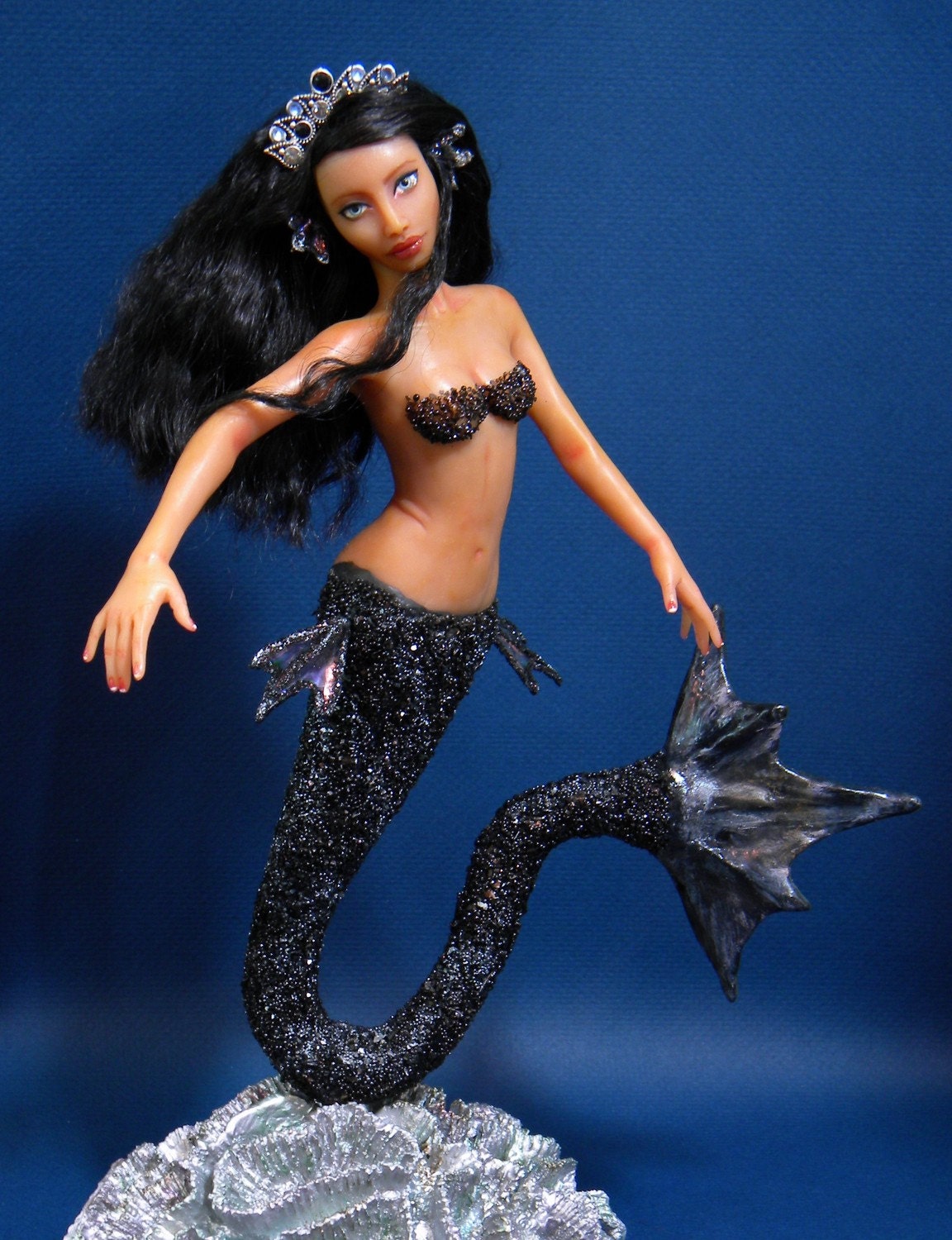 Krishna is a Stone fish inspired mermaid sculpted in a striking pose. She has stunning blue eyes. Detailed shading on her body. Water Lily body art was hand painted on her back. Her crusted tail and fins feature sparkling black, silver and purple colors. Accented with tiny beads and glitter to achieve a "stone" look. Base is multi colored rose coral-like. Hair is long wavy black mohair. Hair is accented with a crystal adorned crown. She is about 17 inches long from head to the end of her curvy tail. Entire piece is about 13 inches tall.
You can see more of Sharron's beautiful creations at:
http://www.etsy.com/shop/scarletlilies09?ref=af_you_favitem
~*~*~*~*~*~*~
Bab

y Mermaid "Chelsea" is a one of a kind (OOAK) mermaid sculpture. She is sculpted out of hand-mixed polymer
Baby Mermaid "Chelsea" is a one of a kind (OOAK) mermaid sculpture. She is sculpted out of hand-mixed polymer clay, I never use any molds, and there is no other one exactly like her in the world! She has brunette Tibetan lamb's hair, which is soft and silky. She wears a crown of seaweed, shells and bubbles. Her eyes were hand-crafted and are painted a clear sea green to symbolize the power of the great ocean, and they are lined with real lashes. She has a scaly pink tail which shimmers in the sunlight. Baby Mermaid has found a treasure: a necklace, which she likes to play with in her shell. She comes with a natural oyster shell, which has been filled with soft seaweed and other little shells. She is removable from her shell. Baby Mermaid Chelsea comes with a Certificate of Authenticity.
You can see more of J.M. Leotti's creations at:
Golden Seashell Mermaid ~ Created by
Elena Loukianova
This beautiful Mermaid is 6 inches tall. She comes with a display frame, which can be hung on a wall 2 small hooks are supplied on the back of the frame. Frame measurements are 8.5 in x 7 in. The figure is a One of a Kind sculpture, made entirely by hand, no molds used. The frame is also hand painted and decorated by the artist, accented with champagne gold and silver colors.
You can see more of Elena's beautiful creations at: